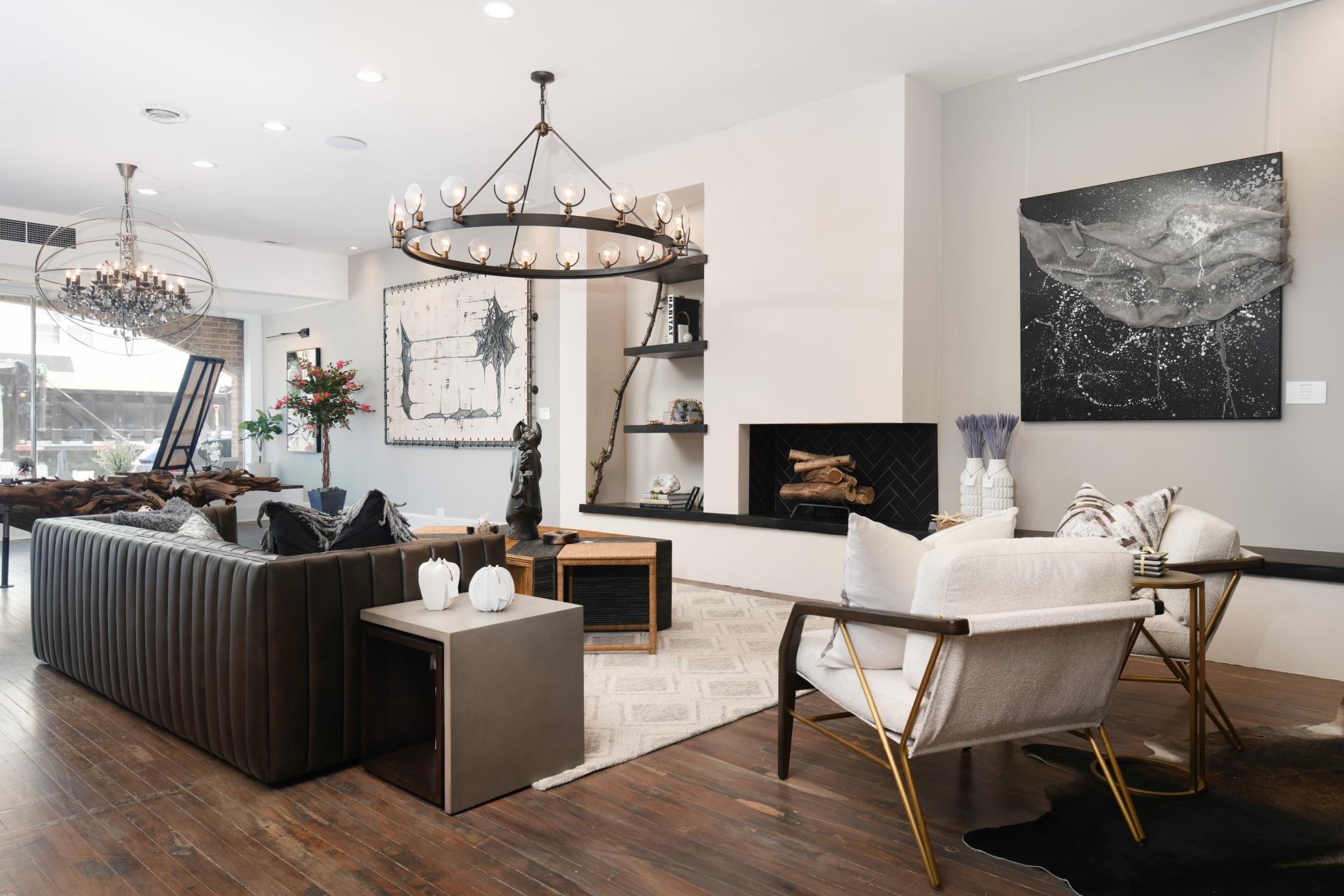 Visit the Showroom
107 E. Main St Barrington, IL 60010
$175 per hr with 4 hr minimum
Parking options
Free street parking, Nearby parking lot
Parking description
There are many free street parking spaces available close to or around the building, depending on day and time. There are also free garage parking spaces available. Parking Garage – 100 E. Station St. Ste 105, Barrington, IL 60010 – next to Francesca's Famiglia
Monday   6:00 AM – 1:00 AM
Tuesday  6:00 AM – 1:00 AM
Wednesday   6:00 AM – 1:00 AM
Thursday   6:00 AM – 1:00 AM
Friday   6:00 AM – 1:00 AM
Saturday   6:00 AM – 1:00 AM
Sunday  6:00 AM – 1:00 AM
Sophisticated Art Gallery with a WOW factor
About the Space
This is not your average rental space! Our 2000 square feet event venue is located in Downtown Barrington. It features unique and versatile space for special events such as:
– Birthday Parties
– Networking Events
– Corporate Events
– Fashion Shows
– Anniversaries
– Ladie's Night
The space has a full kitchen with fridge/oven/microwave, 2 bathrooms, a beautiful main lounge area with different seating arrangements. Our facility can accommodate up to 70 guests. Note that furniture can be arranged to make additional space. This creative space is just waiting for your next event.
General Rules
– No smoking
– No pets allowed
– No glitter,
– no confetti and no oils nor powders are allowed inside the gallery
– Ages 16+
– Outside catering may be allowed but you must clean up after yourself
CLEANING / DAMAGES
Cleaning fee is included in the hourly rate, although guests are expected to leave the space in the same condition as they found it in. Guests must respect the space and we ask/appreciate that guests tidy up after themselves. Guest must remove any equipment or rentals you bring in, and you should factor this setup and teardown time in your booking hours.
Please take great care of our space. No nails, screws, staples or penetrating items should be used on our walls. Any tape or gummed backing materials must be properly removed. Damages (walls, floors, furniture, etc) will be billed to the credit card on file.
FURNITURE
Please notify us in advance if you need to move furniture in the space to suit your event needs.
Guests may cancel their Booking until 30 days before the event start time and will receive a full refund (including all Fees) of their Booking Price. Guests may cancel their Booking between 30 days and 7 days before the event start time and receive a 50% refund (excluding Fees) of their Booking Price. Cancellations submitted less than 7 days before the Event start time are not refundable.